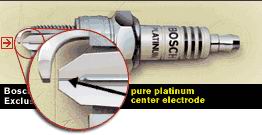 Bosch Platinum's features a pure platinum center electrode that's heat-fused into an extended ceramic insulator for an airtight seal. Other plugs put platinum alloy just on the tip. This superior design is what allows Bosch Platinum to reach its self-cleaning temperature faster, and provide full engine power and improved fuel efficiency over a long performance life.
Bosch Platinum is the first platinum spark plug introduced to the aftermarket, and remains a popular choice for automotive enthusiasts and do-it-yourselfers that are looking for a premium plug with pure platinum
To order your Bosch Platinum Spark Plugs, simply click on our Stock Replacement Parts section and select "Tune-Up & Engine Electrical" after you choose your vehicle.
87-92 325i, is, ic
$1.89
89-90 525i
$1.89
89-93 535i
$1.89
88-89 635 CSi
$1.89
87-92 735i
$1.89
88-94 750i
$2.09
91-94 850Ci
$2.09

Content Copyright © 2000 XP Engineering. All Rights Reserved
Site Design by Arbillon Interactive