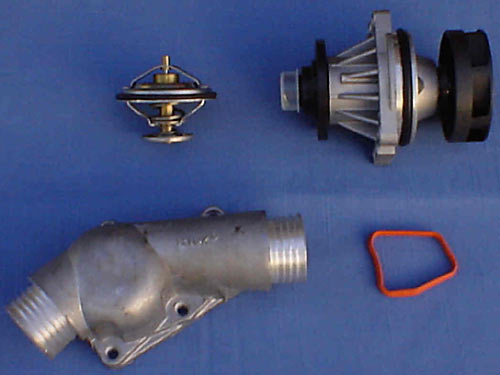 We have experienced a reoccurring problem with 1992-1995 325i/is/ic, 525i/iT and 1995 M3 models. These cars frequently get towed in because of overheating problems. In most cases we have found three major causes.
1) The thermostat tabs have broken (or slightly collapsed causing the thermostat mainshaft to seize).

2) The factory thermostat housing is made of plastic and warps slightly over time and develops slight seepage between the cylinder head and plastic thermostat housing (the seepage is usually so slight that it dries before it leaves any fluid on your driveway or garage and most drivers will usually only get a "Check coolant level" chime as a warning). We have also seen bolts that have been over-torqued by mechanics which hold the thermostat housing to the head, causing cracks on the plastic thermostat housing.

3) BMW used water pumps with plastic impellers (see link). These plastic impellers either crack and lose pieces off the plastic impeller and/or they crack and the plastic impeller releases tension from the water pump shaft and freewheels, stopping coolant circulation in the cooling system, followed very quickly by the coolant temperature gauge needle quickly going into the red).
In light of these problems, XP Engineering is pleased to present the latest addition to our performance catalog. We have put together a cooling system upgrade kit that includes a thermostat with stronger tabs, an aluminum thermostat housing (with a new seal) that resists warping and cracking and can be reused if the thermostat ever needs to be replaced and a water pump with a metal impeller (it has the toughest looking impeller of any of the water pumps we have ever seen for this car) This kit is cheap insurance against damaging your expensive Bavarian motor. This kit is available for a limited time for $75. You may find it in our Stock Replacement Parts Catalog under Cooling System.

Content Copyright © 2000 XP Engineering. All Rights Reserved
Site Design by Arbillon Interactive